The Battle of Durazzo
     The Battle of Durazzo was a naval battle that took place in 1918 in the Adriatic Sea during World War One. It was the largest naval battle of World War One the U.S. took part in.
     Previously from September 15 to the 29 a French general led over fifty-five ships into Macedonia. Their goal there was to destroy as many Austria-Hungarian ships as they could. They accomplished that goal destroying over eleven ships, forcing the Austria-Hungarian's to leave. 
     On the morning of October 2 as the Allied ships were still moving throughout the Adriatic Sea Allied airplanes began attacking Durazzo. The Allied ships then began moving along the harbor and beaches firing on the Austria-Hungarians. The Allied forces were in control the whole time destroying much of the harbor and multiple enemy ships, however there were a few smaller enemy boats that escaped. The Allied forces also captured an enemy hospital ship, which they searched and then let it go. 
     By early morning that same day the Allied forces had captured Durazzo and the Serbian Army landed troops to occupy.
     I personally think that this naval battle was important for the U.S. because it was the biggest naval battle they took part in in World War One, and it was really the only time they could show to the world how powerful their members of the military and their ships were. This would go along with what the United States's diplomacy strategy was, which was showing to the rest of the world their power.
Pictures:

One of the Allied battleships commanded by the Italians
Another of the Allies's battleships commanded by the U.S.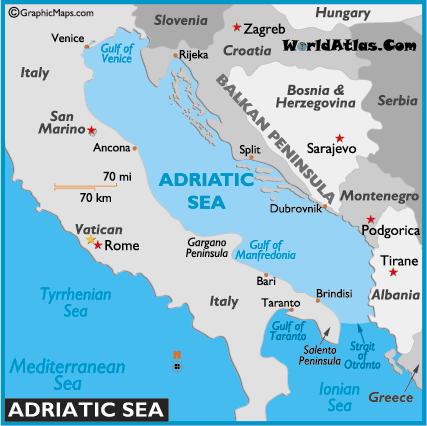 The Adriatic Sea where the Battle of Durazzo took place
Another map of the Adriatic Sea
Sources: http://en.wikipedia.org/wiki/Battle_of_Durazzo_(1918)  
http://www.worldatlas.com/aatlas/infopage/adriaticsea.htm